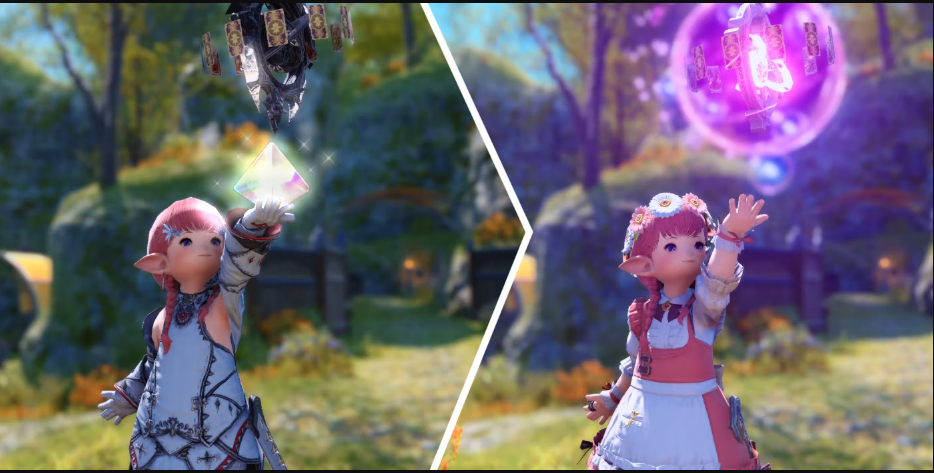 In this section of the Comprehensive Final Fantasy XIV Carry Guide and Walkthrough, we delve into the Glamour System. This intricate feature permits players to adorn their characters with a diverse array of fashionable styles to suit their preferences.
The "Glamour" system in Final Fantasy XIV: A Realm Reborn can be likened to a transmogrification or vanity system. It empowers players to, for instance, adopt the appearance of lower-level equipment and apply it to their high-level gear. Alternatively, players can exercise creative freedom by mixing and matching various gear pieces to create their own unique style.
Embark on a journey to greatness in Eorzea with our comprehensive FFXIV Boosting Services in Final Fantasy XIV. Whether you seek to conquer challenging raids, level up quickly, or acquire coveted in-game rewards, our expert team is dedicated to enhancing your gaming experience. Explore our Final Fantasy XIV page to discover the wide range of offerings that can help you achieve your goals in the realm of Eorzea.
How to Unlock the Glamour System in Final Fantasy XIV
Unlocking the Glamour system in Final Fantasy XIV can be achieved through two distinct methods. The first method becomes available at level 15 and involves completing two quests offered by Swyrgeim in Western Thanalan (X:12.6, Y:14.3, also known as Vesper Bay). These quests unlock both facets of the Glamour system: "If I Had a Glamour" (enabling you to apply Glamour and use Glamour Plates) and "Absolutely Glamourous" (allowing you to craft Glamour Prisms and Glamour Dispellers).
Alternatively, for those who prefer the second method, you must attain a character level of 50 or higher and embark on the "A Self-Improving Man" quest located in Mor Dhona (X: 22, Y: 6), just north of the Aetheryte.
Glamour Prisms
Glamour Prisms and Dispellers are readily available through various means. Firstly, they can be conveniently procured from your respective Grand Company Quartermaster, specifically in the Tier 2 Materiel section. Additionally, these items are commonly found on most market boards, as many players regularly offer them for sale in substantial quantities across all servers.
If you prefer to craft your own Glamour Prisms and Glamour Dispellers, you can do so by achieving a level of 15 in any Disciple of Hand job. Simply approach Swyrgeim in Vesper Bay, located in Western Thanalan, and undertake the quest "Absolutely Glamorous." It's important to note that you must complete this quest separately for each Disciple of Hand job you intend to use for crafting Glamour Prisms.
Glamour Dresser
The Glamour Dresser serves as a versatile tool that allows you to transform virtually any piece of gear into a Glamour item. These specialized dressers can be found within the confines of inn rooms and your Grand Company Barracks. Upon approaching one, you'll be presented with a menu that conveniently segregates your Glamour-affected items (on the left) from the equipment available in your Armoury Chest or Inventory (on the right).
To convert a piece of equipment into a Glamour item, simply select it from the right-hand menu and utilize one of the Glamour Prisms from your inventory. This action will add the item to the Glamour Dresser menu, making it available for future applications. Once an item is stored in the dresser, you can use it to enhance as many pieces of gear as you desire. The Glamour Plates system further streamlines the process, enabling you to create outfits and apply them effortlessly without the need to revisit a Glamour Dresser.
Glamour Plates
Glamour Plates represent predefined outfits that you can configure at a Glamour Dresser and subsequently activate via your Character menu while situated in any city or residential zone. By default, you have the capacity to create and manage up to 15 Glamour Plates.
Configuring Glamour Plates involves a straightforward process of selecting desired Glamour items from your Glamour Dresser for each equipment slot. As you customize your outfit, you can visualize the resulting appearance by viewing the mix and match of different Glamour items.
Once you're content with your Glamour Plate ensemble, simply save it to preserve your selections. When it's time to employ your Glamour Plate, choose the desired plate and initiate the application process. It's important to note that applying a Glamour Plate replaces the appearance of existing gear in your Character menu. Therefore, if you replace any gear pieces with new equipment, the Glamour effect on the corresponding equipment slot will be temporarily lost until you revisit a city and reapply the same Glamour Plate.
Transform your character's appearance and style with our FFXIV Glamour Boosting Services in Final Fantasy XIV. Whether you're looking to create a unique and stunning look for your character or simply want to stand out in Eorzea, our expert team is here to help you achieve the perfect glamour. Explore our Final Fantasy XIV page to learn more about this offering and elevate your character's fashion game in the realm of Eorzea.
In conclusion, the Glamour system in Final Fantasy XIV offers players the opportunity to express their individuality and style, allowing for a wide range of customization options. However, obtaining Glamour items and perfecting your character's appearance can be time-consuming and require significant effort.
That's where Simple Carry's boosting services come into play. With our assistance, you can easily acquire Glamour Prisms, unlock the Glamour Dresser, and efficiently create stunning Glamour Plates. By entrusting us with this process, you save valuable time and eliminate the hassle of hunting for items or completing specific quests. Our services are designed to provide an enjoyable and stress-free experience, allowing you to focus on what matters most in the game – enjoying the immersive world of Final Fantasy XIV and showcasing your character's unique style in the most effortless and satisfying way possible. Elevate your gaming experience with Simple Carry's boosting services and let your glamourous adventures in Eorzea shine brighter than ever before.
Upgrade your character's power and capabilities with our FFXIV Gear Boost service in Final Fantasy XIV. Whether you're aiming to tackle challenging content or simply want to enhance your character's performance, our expert team is here to provide you with top-tier gear. Explore our Final Fantasy XIV page to discover how this offering can help you achieve your desired level of power and conquer the challenges that await you in Eorzea.