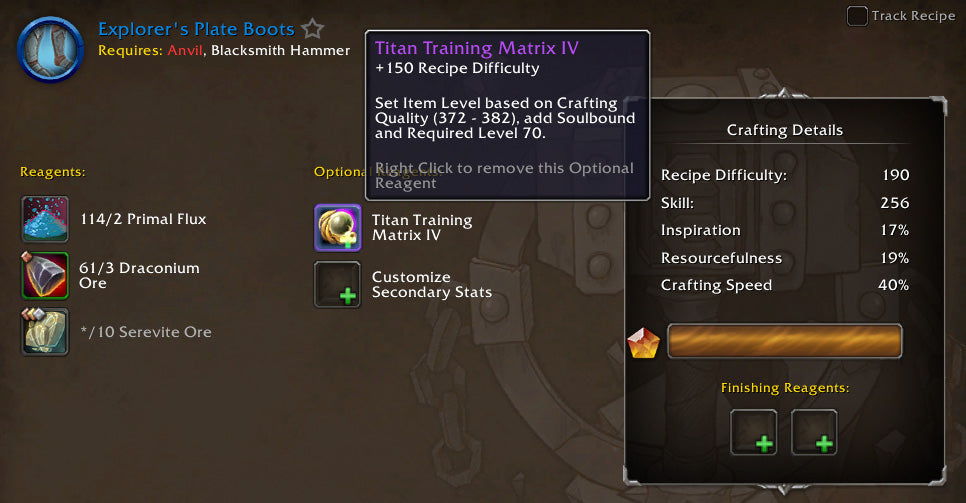 We shall discuss optional reagents used in all professions in this book. What are they used for, how do you get them, and what else is involved? Please read the entire article because certain crafting materials are more powerful than set bonuses.
At Simple Carry, we understand that achieving success in World of Warcraft can be a challenging and time-consuming process. That's why we offer comprehensive WoW boosting services designed to help you save time and achieve your goals in the game. Our team of highly skilled and experienced players is dedicated to providing the best possible service to our customers, and we guarantee that your character will be capable of completing the most challenging mythic plus dungeons, raids, and PVP end-game content in the game.
HOW OPTIONAL REAGENTS WORK
The easiest way to conceptualize optional reagents is as modifiers that impart a unique quality to a crafting material. In addition to the necessary reagents, you can add this reagent during crafting or crafting order in a unique selection window. However, keep in mind that adding an optional reagent makes the process more challenging and could lower the product's quality.

Beginning with the simplest reagents—those that have an impact on the finished item's overall level—get let's to know the other reagents. You can find it as loot when you defeat Rare on the Dragon Isles, as a World Quest reward, as well as by taking out World Bosses and dungeon bosses in difficulty settings ranging from Normal to Mythic.
Similar-functioning reagents are available, although obtaining them from Mythic+ dungeons is significantly more challenging (the first one can be obtained from M+11 or higher up to +15, and the second from M+16 or above, one per run). They provide an item with the highest level, making them the most valuable.
---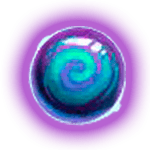 CRAFTING EMBELLISHMENTS
Reagents called embellishments give the finished product distinctive effects. All of these reagents are made by specific professions and are also bought and sold at auction.
Keep in mind that adding all of these ingredients makes the recipe more difficult, which could alter the dish's level. However, only the most basic, common chemicals are required for recrafting; you don't need to purchase any more embellishments.
Attention, seekers of swift empowerment! For those yearning to gear up effortlessly, Simple Carry presents its exceptional WoW Raid Boost, WoW Dungeon Boost and WoW PvP Boost. Designed to cater to adventurers aiming to conquer Azeroth's challenges, Simple Carry's team of experts stands ready to guide you through even the toughest raids, ensuring a victorious journey.
Meanwhile, for those engrossed in the world of WoW's Dragonflight, the Guide to Optional Reagents awaits your perusal. Delve into this comprehensive guide for insights into the effective utilization of optional reagents, providing you with the knowledge to enhance your gameplay. Bid farewell to the grind and embrace a more efficient route to empowerment, whether through raid boosting services or mastering the intricacies of optional reagents. Embrace Simple Carry and embark on a journey of triumph and accomplishment.
CRAFTABLE EMBELLISHED PIECES
You can use these unique crafting supplies up until the Tier Set is finished. possibly even afterwards.
PLATE EMBELLISHED GEAR
MAIL EMBELLISHED GEAR
LEATHER EMBELLISHED GEAR
CLOTH EMBELLISHED GEAR
EMBELLISHED JEWELRY
EMBELLISHED WEAPON
FINISHING REAGENTS
Only Profession Masters can utilize the Finishing Reagent, a brand-new Reagent type in the game. Although finishing reagents vary by vocation, they all work to boost a crafter's skill or stats. This allows you to either make more goods than you had anticipated or save other reagents.

Examples of some of these finishing reagents are as follows:
All reagents used in finishing have Crafting Quality. There are only three levels; the bonus increases with the end reagent's quality.

How did you manage your profession change? The system seems to be overly complex. If you still don't grasp something, consult the order table and our general reference to all vocations, which will help you deal with everything.